Why Unidapt™?
Create any inter-series or intra-series adapter you need in seconds.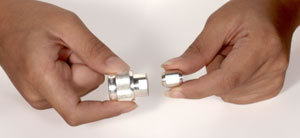 Universal adapter mates with all Unidapt™ interface adapters.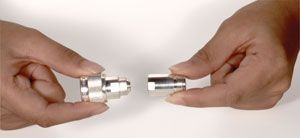 Other side of universal adapter then mates with any other Unidapt™ interface adapter.
Our Universal Adapter is the key.
Each Unidapt™ fitting has a common connector end and a universal adapter end. Simply choose the two common connector ends you need, and screw them together with the universal adapter. It's so easy. That's why technicians love it! Our ingenious adapter kits let you mix and match any 2 male or female coaxial fittings. Build the perfect adapter or cable assembly for the job—Male-to-Male, Male-to-Female, or Female-to-Female.
All Unidapt™ sections are made of silver plated machined brass with a gold plated phosphor bronze contact anchored in a PTFE dielectric.
UNIDAPT, MALE UHF SECTION, S-G-T

Unidapt to Male UHF Adapter, White Bronze

UNIDAPT, MALE MINI-UHF SECTION, S-G-T

Unidapt to Male Mini UHF Adapter, White Bronze

UNIDAPT to MALE N ADAPTER

Unidapt to Male N Adapter, White Bronze

UNIDAPT to MALE BNC ADAPTER

Unidapt to Male BNC Adapter, White Bronze

UNIDAPT to MALE TNC Adapter

Unidapt to Male TNC Adapter, White Bronze

UNIDAPT, MALE SMA SECTION, S-G-T

Unidapt to Male SMA Adapter, White Bronze

UNIDAPT TO UHF FEMALE ADAPTER

Unidapt to UHF Female Adapter, White Bronze

UNIDAPT to FEMALE MINI-UHF Adapter

Unidapt to Mini-UHF Female Adapter, White Bronze

UNIDAPT to N FEMALE ADAPTER

Unidapt to Female N Adapter, White Bronze

UNIDAPT to FEMALE BNC ADAPTER

Unidapt to Female BNC Adapter, White Bronze

UNIDAPT to FEMALE TNC ADAPTER

Unidapt to Female TNC Adapter, White Bronze

UNIDAPT to FEMALE SMA ADAPTER

Unidapt to Female SMA Adapter, White Bronze

UNIDAPT to UNIDAPT, UNIVERSAL CENTER SECTION ADAPTER

Unidapt to Unidapt, Universal Center Adapter, White Bronze

UNIDAPT, RIGHT ANGLE ADAPTER, S-G-T

UNIDAPT, T ADAPTER, S-G-T

Unidapt to 2.2-5 Male Adapter, Low PIM, White Bronze

Unidapt to 2.2-5 Female Adapter, Low PIM, White Bronze